Kulinaaria Instituudi eesmärk on olla kõrgete kulinaarsete kunstide arendamise
keskus Eestis.
La Bottega Trattoria is an eatery offering homely Italian food. The classic trattoria offers a cross-section of the best of Italian kitchen, the menu of the restaurant was created by the lauded chef of Bocca, Nicolo Tanda. The handwritings of Bocca and La Bottega are however clearly different – the former offers modern and the latter so to speak more homely Italian kitchen.
Great emphasis has been placed on Italian wines and dishes which bring a fraction of genuine Italy to the visitors. This has been acknowledged in the form of various awards, with La Bottega Restaurant awarded the deserved third place by the best 50 restaurants in Estonia in the year 2011.
The interior with its high ceilings and the large mantle chimney creates a cosy mood. The few remaining historical details have been complemented with huge wine shelves, the ceilings are stained dark and the walls painted white, creating an authentic Mediterranean atmosphere. The accent of intense light chandeliers, chequered tablecloths and framed photographs from travels create the mood. The design won the Annual Award of the Estonian Society of Interior Architects in the year 2008 in the category of historical interiors.
La Bottega is certainly a good place to visit with family of friends to enjoy good and traditional Italian food.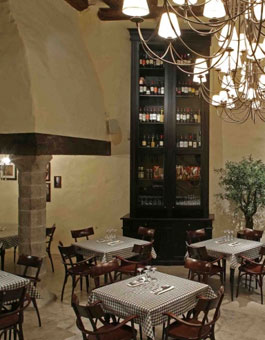 La bottega

Vene tänav 4, Tallinn
Tel +372 627 7733
ene@labottega.ee