Kulinaaria Instituudi eesmärk on olla kõrgete kulinaarsete kunstide arendamise
keskus Eestis.
Restaurant Café Swiss is an all day dining 146 seat modern restaurant with an inviting aura of contemporary elegance, warmth and a breath of inspirational charm, located in Swissôtel Tallinn.
Our Executive Sous Chef Taigo Lepik invites you to discover a new, exclusive culinary experience through an original journey with exciting international flavors. In addition to the a la carte menu the Café Swiss buffet serves breakfast and lunch every day of the week featuring European specialties and traditional Swiss cuisine. Sundays in restaurant Café Swiss are for families. Sunday Brunch is offering you an opportunity to take your family to a Sunday trip for tastes of different countries without leaving the Estonia!
"Taste of Tallinn 2011" Menu is creating by using only the freshest ingredients and is influenced by the oldest Estonian cook book "Köki ja kokka raamat", published in 1781. The menu includes some of the chef's personal favorites and popular dishes that have featured in many national menus in previous years.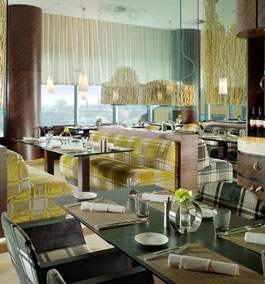 Restaurant

Caf

é

Swiss

Tel +372 624 2000