Kulinaaria Instituudi eesmärk on olla kõrgete kulinaarsete kunstide arendamise
keskus Eestis.
The architectural layout of the Egoist Restaurant, nestled in one the most beautiful buildings of Tallinn's Old Town, makes it a perfect retreat for those who appreciate discretion, romance and good food. Its gastronomic concept, which observes and values the best traditions of European cuisine, has proved to be a good challenge for many Estonian chefs, shaping their notion of the best practises of making and serving food. It is noteworthy that the descendants of the one-time owner of the building at 33 Vene St., Baron de Soucanton, who now live in Baden-Baden, Germany, have repeatedly emphasised on their visits to Egoist that it is exactly how they have imagined the present interior of the building and the menu of a restaurant located in it. The sentiment that we have managed to strike a chord of balance in with our design, service and food is an important expression of recognition for us.
In Egoist, creative and vibrant Heidi Pinnak, Chef of the Year, and Orm Puks, Sommelier of the Year, have been offering the finest wine and dine experiences for over 12 years. Egoist has been recognised as the Best Restaurant in the Baltics by the San Pellegrino List of the World's Best Restaurants and has earned third place among restaurants from six Nordic countries in the Skargardsmak competition held in Stockholm for the best coastal cuisine. The Egoist Restaurant is for the small egoist in everyone that wishes only the best for us.
The menu of Tallinn, the European capital of food culture 2011 presents traditional Estonian and European flavours elaborated over the years and served with the greatest of care.
You are most welcome!
Heidi Pinnak
Orm Puks
Dimitri Demjanov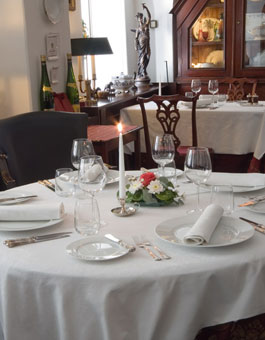 egoist

Vene Street 33, Tallinn
egoist@egoist.ee