Kulinaaria Instituudi eesmärk on olla kõrgete kulinaarsete kunstide arendamise
keskus Eestis.
Our menu is exactly like the name says – delicious and exciting fish dishes served with the perfect wines to complement the food. If you love meat, you do not need to worry either – our menu includes choices for everyone.
Fish & Wine serves simple and honest food which tastes just like it looks. Our cooks show all their artistic and culinary skills to preserve the natural flavours. But there is still something unique on each plate. Have you been to a restaurant before that serves tartar with salad?
At Fish & Wine, you will always feel comfortable, whether you enjoy a meal alone or come with friends. The mellow bar and cafe is on the first floor, and the restaurant is on the second floor. The third floor is perfect for more private get-togethers and meetings combined with breakfast, lunch or dinner, and wonderful views of St. Nicholas' Church and views of the Old Town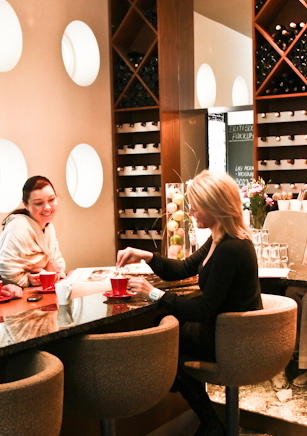 Fish & wine

Harju Street 1, Tallinn
Tel +372 662 3013
info@fw.ee