Kulinaaria Instituudi eesmärk on olla kõrgete kulinaarsete kunstide arendamise
keskus Eestis.
The Gloria Restaurant has extended hospitality for well over 70 years. This magic number stands for hundreds of thousands of memorable taste experiences, happy moments and VIPs visiting Estonia, such as Prince Charles, John Paul II, Rolling Stones, Sting and others.
In addition to its central location in the heart of Tallinn's Old Town and its menu drawing on the traditions of Medieval Europe, it has served as a stage for top European chefs introducing different food cultures and traditional European flavours to our guests.
Gloria – innovative in form, but conservative in essence – has always strived to offer the best in terms of food, that is to reflect our creativity, skills and finest Estonian flavours.
The menu of Tallinn, the European capital of food culture 2011 is exactly what we would like to offer to our dearest guests to give them an idea of Nordic tastes and culture likewise.
Sincerely yours,
Eda Maiväli
Stefan Jarts
Dimitri Demjanov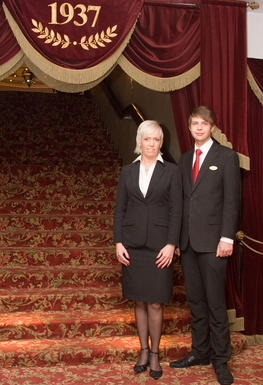 gloria

Müürivahe 2, Tallinn
Tel +372 640 6800
gloria@gloria.ee