Kulinaaria Instituudi eesmärk on olla kõrgete kulinaarsete kunstide arendamise
keskus Eestis.



The Maikrahv

is a merry and splendid restaurant where noble ladies and gentlemen, aldermen, industrious citizens, merchants from lands far away and other visitors can enjoy a good meal and a refreshing drink.




The Maikrahv restaurant is directly opposite the Town Hall, on the most important square in Tallinn. In the kitchen of the restaurant, mouth-watering delicacies are prepared by our master of dishes, Indrek Käen, who has learned the culinary arts in such distant places as the Mediterranean and the land of the Vikings, and anywhere else in the wide world where people know how to make delicious dishes.




The Maikrahv has another attraction besides the wonderful food: there is always merry and romantic music, selected to satisfy even the most sophisticated taste.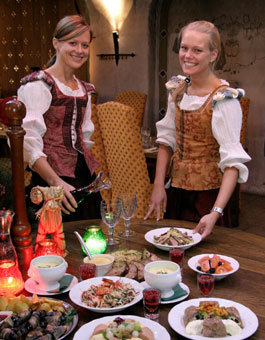 Maikrahv

Raekoja plats 8, Town Hall Square