Kulinaaria Instituudi eesmärk on olla kõrgete kulinaarsete kunstide arendamise
keskus Eestis.
Restaurant Nevskij is famous for its hospitality and flair. Complied with all the traditions of national cuisine the restaurant is not only favored by citizens of Tallinn, but also by the guests of our city.
The menu is very diverse and we are always in search of new taste surprises. Chef de Cuisine,Vladimir Iljin, conjures in the kitchen and creates unique dishes from products grown on the land of Estonia.

As culinary experts say, a good restaurant is a theater. The actors are in the kitchen, the spectators in the dining hall. The roles are distributed, the plot is known and the success of the play as well as the final price of the ticket is completely dependent on the ability of the "actors" to tempt, and the "spectators" to be tempted.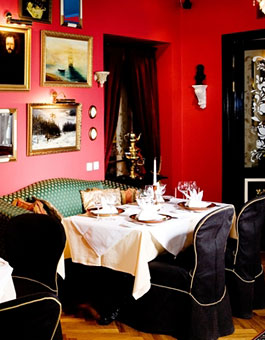 Nevskij

Hotel St. Petersbourg
Rataskaevu 7, Tallinn
Tel +372 628 6560