Kulinaaria Instituudi eesmärk on olla kõrgete kulinaarsete kunstide arendamise
keskus Eestis.
Restaurant Platz is characterised by friendly and professional service and local Estonian cuisine. The food can be described as being based on raw seasonal goods, simple and easily enjoyed.
Platz's a la carte menu and lunch specials – served from Monday thru Friday – remind one of past, but enjoyable, soul relaxing memories. Our professional wine list must be noted. A selection of wines, with a price of up to EEK 400 per bottle, available by the glass. At Platz it is possible to organise various events for up to 120 people. During the summer, a 100 seat terrace is also available.
Chef Veiko Treumann & Sommelier Margus Linkgreim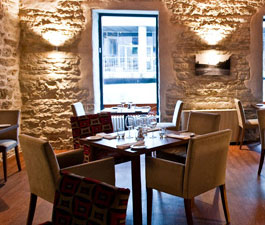 Platz

Roseni tn 7, Tallinn
info@platz.ee