Kulinaaria Instituudi eesmärk on olla kõrgete kulinaarsete kunstide arendamise
keskus Eestis.
The modern interior and international kitchen of Spirit Cafe offer a stylish and exciting experience to any visitor. The interior of Spirit consists of interesting little bits – from genuine hardwood floors, natural stone and wood walls and fur to colourful pillows, live-fire fireplace and various artful expositions. And all mentioned above is tied into a great whole with helpful and bright-eyed service and nice music.
The gourmet side of Spirit walks side-by-side with one of the most highly rated restaurants in Estonia, Ö, amicably sharing both the kitchen side and the master chefs. The international menu is bursting with delicious dishes, among other things you will find plenty of lighter salads, soups, sushi and a proud selection of fascinating cocktails from the menu. One of the leading chef de cuisines of Spirit and Ö is Dmitri Fomenko who has the ability to create delightful harmonies of flavours and poor them into simple forms.
The homely, modern interior, plenty of light and comfy places to sit make Spirit Cafe a loved place for having lunch, for business meetings and also for weekend cocktail nights before diving into a club night.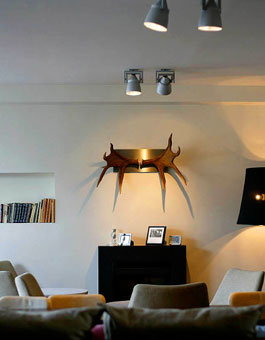 Spirit

Mere pst 6E, Tallinn
sirli@bonbon.ee