Kulinaaria Instituudi eesmärk on olla kõrgete kulinaarsete kunstide arendamise
keskus Eestis.
Restaurant City offers on weekdays easy and fast lunch menu. The 154-seat restaurant is perfect for conference lunches, dinners and receptions. Buffet is offered to groups if preordered.
The cosy 56-seat a la carte side of the restaurant
City
is an ideal place for private business meetings and relaxing dinners with good friends.
Enjoy the creations of our Chef de Cuisine Kaie Karu and a selection of great wines in the pleasant atmosphere of our restaurant.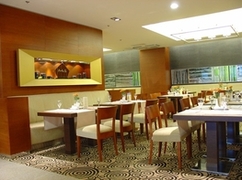 Tallink City restoran

Tallink City Hotel
A. Laikmaa 5, Tallinn
Tel +372 630 0818